ADORNED JEWELLERY
EXHIBITION INVITATIONS

PRIVATE SHOW, SANTA YNEZ, CALIFORNIA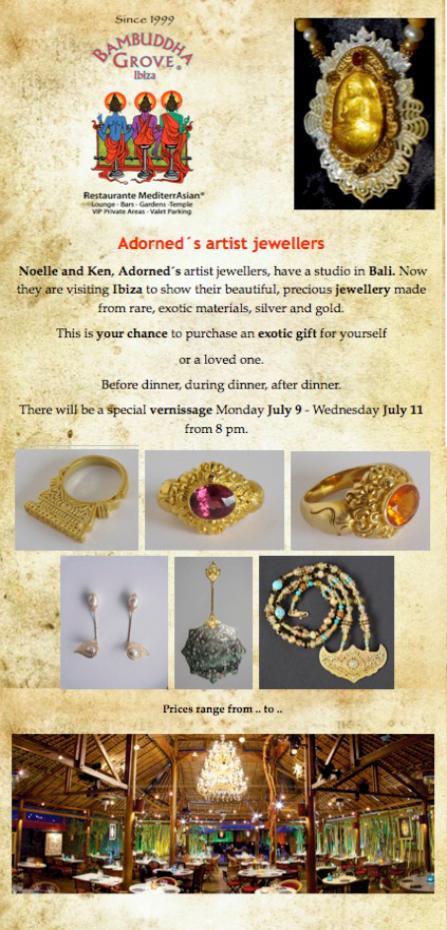 ZENSE GASLLERY, PALM SPRINGS, CALIFORNIA

THE BAMBUDDHA GROVE, IBIZA, SPAIN

PRIVATE SHOW, NOTTING HILL, LONDON

ADORNED EARRINGS IN VOGUE MAGAZINE

Adorned was founded in 2004.
Over the years, we have sourced designer handicraft,
jewellery, fabrics, clothing, statues and wood carving
from many countries: Thailand, Cambodia, Malaysia, Indonesia, India, Laos and Burma.

Adorned has exhibited these wonderful artifacts in
England, Wales, Ireland, France, Spain, United States, Australia and New Zealand.
This is an international company.

We are proud to show some of our invitations,
and a list of the 52 venues
that have displayed Adorned jewellery around the world.

05-Feb-05
05-Feb-05
05-May-05
04-Aug-05
12-Aug-05
02-Apr-06
03-Apr-06
20-Apr-06
06-July-06
26-July-06
22-Sep-06
03-Nov-06
12-Nov-06
12-Nov-06
24-Nov-06
09-Dec-06
01-Jan-07
23-Feb-07
05-May-07
12-Jun-07
12-July-07
03-Nov-07
01-Dec-07
11-Dec-07
04-Jan-08
21-Mar-08

French, Scottsdale, Arizona
Hyatt Shops, Secona, Arizona
Partita, San Juan Capistrano, Calif.
Roy Kings Jewels, Mayfair, London
Arabesque, Walton Street, London
Beverly Hills Hotel, Los Angeles, Calif.
Dana Stewart, Palm Springs, Calif.
Angelina, Los Angeles, Calif.
Blakes Hotel, London
Vega Apartment, St Tropez, France
Jaded, 5th Avenue, New York City
Santa Barbara Museum, Calif.
Sculpture to Wear, Santa Monica, Calif.
Youngman, Down Town Los Angeles
Zense, El Paseo, Palm Springs, Calif.
Trubitz, Santa Inez, Calif.
33 Jewels, Santa Barbara, Calif.
Joelle, Morengo Valley, Calif.
Artiste Winery, Santa Ynez, Calif.
Frank Phillips, Kensington, London
Arabesque, Walton Street, London
Rosenberg, Santa Ynez, Calif.
Abundant Health, Palm Springs, Calif.
Jaded, 5th Avenue, New York City
Jaded, 5th Avenue, New York City
Summer Fair, London

25-Mar-08
23-May-08
21-Nov-08
09-Jan-09
15-Jun-09
06-July-09
20-July-09
06-Oct-09
25-Apr-10
14-May-10
20-July-10
28-July-10
03-Feb-11
18-Apr-11
28-Apr-11
19-May-11
08-Aug-11
28-Jun-11
03-July-12
09-July-12
20-July-12
10-Oct-12
20-Oct-12
01-July-13
18-Nov-13
10-Dec-13

Gadfly Gallery, Perth, Australia
London Fashion Week, London
Vogue House, Hanover Square, London
Warwick, Pembridge Crescent, London
Arabesque, Walton Street, London
Susanne Lobel, Eaton Place, London
Cliftons, Strawberry Hill, London
Rome Burns, Fulham Road, London
Genlux Magazine, Beverly Hills, Calif.
Hong Kong Hotel Show
Warwick, Nottinghill Gate, London
Valerie Ward, Knights Bridge, London
Fosil Art, Tuscon Gem Show, Arizona
Paradise Spa, Del Ray Beach, Florida
Peerless Place, Beverley Hills, Calif.
Di's Closet, West Palm Beach, Florida
Cliftons, Strawberry Hill, London
Ann Britt Gallery, Amsterdam.
Katja and Mischa, Ibiza, Spain
Bambuddha Grove, Ibiza, Spain
Beach Hotel, Ibiza, Spain
Lux, Singapore
Quick, Kentish Town, London
Creativations, Fulham Road, London
Divine Joy, Hawaii
Gadfly Gallery, Perth, Australia